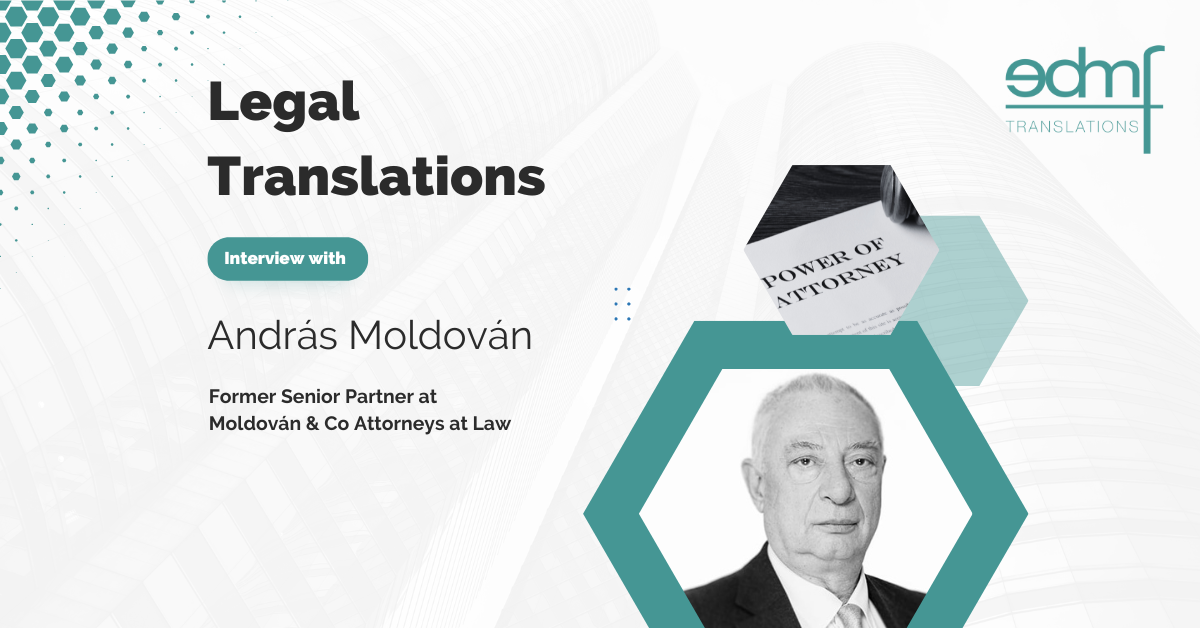 All about legal translation – interview with András Moldován, former Senior Partner at Moldován & Co Attorneys at Law
A legal translation can take on many forms. They can include documents such as contracts, patent and trademark filings, court and witness transcripts, depositions, registration documents, expert reports, legal disclaimers, affidavits, regulations, laws, confidentiality agreements, legal certifications and statements, government and legal ruling reports, letters of credit, technical documents to support litigation efforts, licenses, litigation and arbitration documents.
András Moldován was for 25 years the Senior Partner at Moldován & Co Attorneys at Law. He actively dealt with all aspects of business law, with particular expertise in the field of pharmaceuticals and healthcare. His area of expertise included corporate law, real estate law, public procurement tenders, environmental protection, commercial litigation and arbitration, as well as a wide array of commercial law matters.
We asked András Moldován about the importance of translation.
EDMF: As the senior lawyer at Moldován & Co Attorneys at Law, you worked in international fields for more than twenty years. We presume you speak more than one language. What languages do you speak and how long have you used them for?
András: I learned English in school and German and Russian on a private basis. I used only English in my legal carrier, so the other two faded away. Although I can still chit chat in German and Russian, I do not use any of those in my work.
EDMF: How important do you view translation and interpreting in your field of work, and why?
András: It is a must. It is a way of communicating people of different countries.
EDMF: Why is legal translation different from other types of translation, and why is it so intricate?
András: A legal translation has to provide the meanings of the basic language text precisely, and is usually full of formulations not used in other texts. A small misinterpretation of the intended motions may cause irreparable damages.
EDMF: Can you share with us any good or bad experiences you've had in connection with translation or interpreting at your firm, and what impact this had?
András: In the nineties, one translation omitted the word "not" in part of the text. We were in court for years over the issue.
EDMF: If you had to advise a lawyer colleague about finding the right translation firm, what tips would you give?
András: Contact at least three firms with the same text on a test basis, and then choose EDMF. No room for mistakes.
https://edmf.com/wp-content/uploads/2022/08/Moldovan-1.png
628
1200
EDMF
https://edmf.com/wp-content/uploads/2019/10/edmf_logo-300x197.png
EDMF
2022-08-16 11:31:34
2022-10-21 08:35:49
All about legal translation – interview with András Moldován, former Senior Partner at Moldován & Co Attorneys at Law