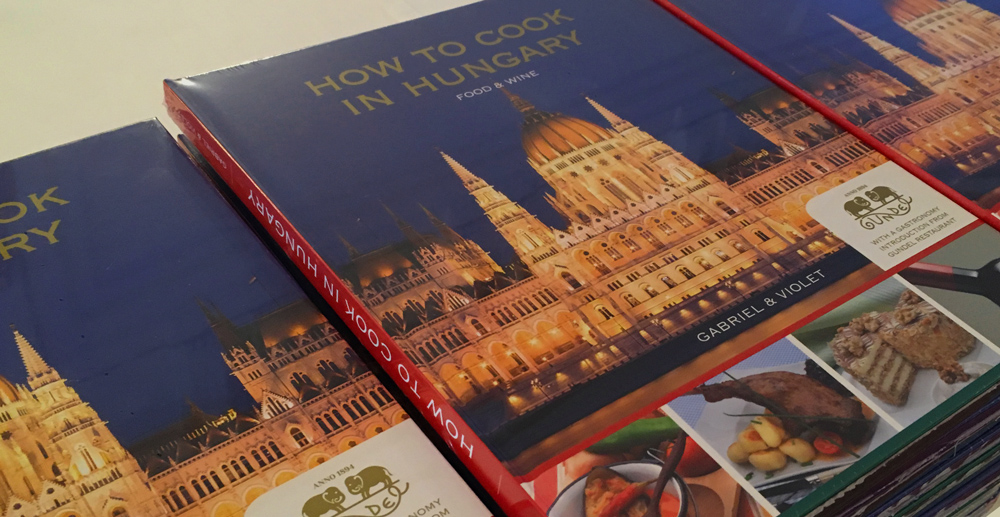 How To Cook In Hungary – a unique book on Hungarian gastronomy, translating cuisine.
Translating books is especially dear to our hearts. Particularly if the job entails winemakers, celebrities, sports people, artists and chefs, all of whom share their favourite recipes and personal culinary stories with the reader.
The translation of a unique book on gastronomy
This job was a real treat for EDMF Translations, from all perspectives. For us, translating this exclusive culinary book was full of fun experiences, not only because of the rewarding topic, but also because of the specialist language of gastronomy.
3 styles, 3 languages of translation
In actual fact, the "book" comprises 3 books in one: the stories of famous personalities, recipes of their favourite dishes, and wine recommendations from renowned winemakers. The three different fields required that the translators master three distinct registers.  We translated the Hungarian recipes, the personal stories and the expert descriptions of the wine recommendations with the same precision, in order to faithfully reflect the singularity of the book's English version too.
During the translation we learnt a lot of charming stories from the interviewees, for example that László Cseh, Olympic silver and bronze medallist, world and European champion, 100 times Hungarian champion swimmer, is a true steak fan. But in the book we can also read about traditional Hungarian dishes like tripe stew interpreted by artists including the world-renowned opera singers Andrea Rost and Erika Miklósa.
Gastronomy experiences of Olympic medallists and opera singers 
In How To Cook In Hungary, 30 famous winemakers and 30 celebrities, including 13 Olympic champions, reveal to us their gastronomic experiences. Translating the 60 interviews, the more than 80 recipes and the recommendations of beautiful Hungarian wines was a truly rewarding and fascinating task.
The book was launched at a ceremonial event in the venerable Gundel Restaurant on 22 November 2016. Almost all of the participating celebrities in the book were in attendance, while many ambassadors currently posted to Budapest also graced the event with their presence. We were particularly delighted that EDMF was granted a prominent position at the event as a fitting end to this worthy project.
https://edmf.com/wp-content/uploads/2013/11/illusztracio-how-too-cook-in-Hungary-book-translation.jpg
517
1000
Edit
https://edmf.com/wp-content/uploads/2019/10/edmf_logo-300x197.png
Edit
2016-11-09 23:23:40
2019-12-01 13:39:00
Do You Speak Hungarian Gastronomy?